We All Own Too Much Stuff!
$1.2 trillion: How much Americans spend annually on goods and services they don't absolutely need.1
Did you know approximate 17+ million new bikes are sold each year in the United States alone?2 Is this necessary? Or, Is there a better way? We believe renting the items that we currently own and exist in the market is a more cost-efficient and effective way to live. People are no longer afraid of conducting commerce in a peer-to-peer manner due to pioneers such as Uber and Airbnb. For many, it is actually more enjoyable and more rewarding to know someone is increasing their personal income while another person is saving money in the process.
Similar to bikes, 11+ million new lawn mowers are purchased every year, yet we might use our lawn mowers once a week for approximately 1-hour. Shouldn't we be getting together with our neighbor and local community members and using this underutilized resource more efficiently? If owning a John Deere is very important to you, fantastic. But, Why not let others around you enjoy it too and pay off your credit card in the process?
We estimate 50% or more consumers want to own less. Life has become too fast and having a lot of stuff only weighs us down. In many cases, items are not available for rent so the only option consumers have is to purchase and own items they don't need long-term. One of the major benefits of Rent Items' rental marketplace is you no longer have to buy everything. We are going to be learning what categories and items individuals and businesses are forced to purchase and provide a better way for utilization through renting.
Sharing is Caring
We believe sharing is caring. That is a big part of Rent Items' mission. We want to empower individuals and business to care more about their community, the environment, and financial wellbeing. By using Rent Items' rental marketplace, you are contributing to social, environmental, and financial benefits. You can have a direct impact on changing the way we think about consumption and utilization of the goods we only need once in a while. If we start caring less about our stuff and start caring more about other people, what will the world look like in 2050?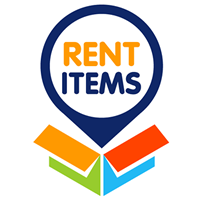 RentItems is a peer-to-peer rental marketplace. We help individuals and local business owners share assets they own by renting it to those in their local community or traveling to their city. Take items sitting unused in your garage, basement, self-storage unit, retail store, or warehouse and put it to better use. Become more sustainable by joining the sharing economy today and register at Rentitems.com.
https://blogs.wsj.com/economics/2011/04/23/number-of-the-week-americans-buy-more-stuff-they-dont-need/