How to Rent Your Items with Less Risk
First, let's define the parties involved in Rent Items' peer-to-peer rental marketplace.
Owner – Those that have items to rent.
Renter – Those that need to rent items.
The following question is by far the #1 question we are asked by both owners and renters.
How do you make sure the items that are rented are kept in good condition?
At Rent Items, we take this question very seriously and believe we have developed solutions that will yield the best possible outcome in a peer-to-peer rental marketplace environment.  We take several measures in trying to ensure renters handle owners' items with proper care.
Validation System – Rent Items has created a validation system that allows people to validate their identity so that others in the rental community can feel more comfortable and confident in who they are renting to and from.
Worry-Free Coverage – Rent Items will be providing worry-free coverage to both the owner and renter on select items/categories to start with and expand our scope as we move forward.
Fulfillment Process – Rent Items has developed a fulfillment system in place that tracks the rental process and history from beginning to end.
Review System – Rent Items has created a review system so owners and renters can share their rental experiences with other members of their community and provide feedback to those they have done a rental transaction with.
Educational Resources – We are creating educational resources such as this blog article so that the Rent Items' community can become educated on best practices to mitigate and manage risk.
GeoTagging –

In order to give owners additional comfort that their item is safe and secure, they will have an option to GeoTag their item and track its location. This additional security feature is planned to be launched in early 2020.
Being in the rental industry, it has been our experience items are more likely to be returned in acceptable (normal wear and tear) or in the same condition as they were provided.  Obviously, accidents do happen and on occasion people will not handle items at the level of care that is typically expected. We are trying to mitigate risk for the owner and renter as much as possible by standardizing and formalizing the rental process in a peer-to-peer environment. We can't provide 100% assurance nothing would ever happen during a peer-to-peer rental. But, we can try to mitigate such a situation and we always welcome any ideas and feedback from our rental community to try and make things better.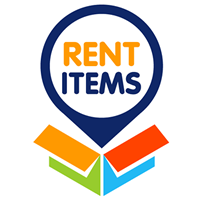 RentItems is a peer-to-peer rental marketplace. We help individuals and local business owners share assets they own by renting it to those in their local community or traveling to their city. Take items sitting unused in your garage, basement, self-storage unit, retail store, or warehouse and put it to better use. Become more sustainable by joining the sharing economy today and register at Rentitems.com.